How Do I Choose a Storage Unit?
MINI PUBLIC SELF STORAGE TIPS AND VISUALIZATION ( How to Visualize What Unit Will Hold Unit Visualization)   5′ x 5′ 25 sq. ft. (1.52m x 1.52m 2.32 sq. m.) 4'x8′ Trailer (1.22m x 2.44m Trailer) Small closet Half bathroom Chest of drawers or desk mattress set, several boxes and small items OR about 50 file boxes
5_5
  5′ x 10′ 50 sq. ft. (1.52m x 3.05m 4.65 sq. m.) 6'x12′ Trailer (1.83m x  3.66m Trailer) Pickup Truck or Cargo Van Walk-in closetMattress set,  sofa, dining room set or chest of drawers, boxes and small items 5_10
5′ x 15′ 75 sq. ft. (1.52m x 4.57m 6.97 sq. m.) Large walk-in closet Small bedroom Standard furnishings of one bedroom apartment without appliances, or about 150 file boxes 5_15
10′ x 10′ 100 sq. ft. (3.05m x 3.05m 9.29 sq. m.) 15′ Moving Truck (4.57m Moving Truck)Average size bedroomFurnishings of one bedroom apartment with refrigerator and washer/dryer, patio furniture and many boxes ORtwo office suites OR about 200 file boxes 10_10
10′ x 15′ 150 sq. ft. (3.05m x 4.57m 13.94 sq. m.)20′ Moving Truck (6.10m Moving Truck)Large bedroom Furnishings of two bedroom apartment or small house with appliances, patio furniture and many boxes OR a vehicle or small boat OR it is big enough to fit carpet rolls and building materials
10_15
10′ x 20′ 200 sq. ft. (3.05m x 6.10m18.58 sq. m.)24′ Moving Truck (7.32m Moving Truck)Small one car garage Furnishings of two bedroom house with appliances, patio furniture and many boxes OR a vehicle or small boat OR  construction equipment  10_20
  10'x 25′ 250 sq. ft. (3.05m x 7.62m 23.23 sq. m.) 26′ Moving Truck   (7.92m Moving Truck)Large one car garage . Furnishings of three   bedroom house with appliances, patio furniture and many boxes, garage extras and miscellaneous OR a vehicle or boat 10_25
10′ x 30′ 300 sq. ft. (3.05m x 9.14m 27.87 sq. m.)Extra long one car garage Furnishings of four or five bedroom house with appliances, patio furniture and many boxes, garage extras and miscellaneous OR a vehicle or boat  10_30
Packing & Storage Tips
Do:
Use pallets, 2 x 4's, plywood, any thing that will keep your items off the floor of the unit.
Utilize all the space in your unit. Make a plan as to how you are going to arrange your items. A good plan will save you the time of having to rearrange your unit. Leave an aisle in the center of your unit so that you have a walk way to the back of the unit.
Use freestanding shelves to help organize your unit.
Label the boxes on all six sides and keep a list for easy reference. This will save you time if you have to look for something in particular. When packing boxes fill them without making them too heavy to lift. Always put the heavier boxes on the bottom and the lighter ones on top of the heavier ones. This will prevent boxes from being crushed. Keep boxes off the floor.
Be sure to store frequently used items at the front of the unit to avoid having to search for them.
To protect your items cover them with moving pads, sheets, or light blankets.
Be sure to check your unit once a month.
Disassemble items such as tables, bed frames, etc. This will save space. Wrap and label all pieces for an easier time when you have to reassemble them. Put all hardware in bags and mark the bags accordingly.
When you disassemble electronics, such as computers, stereos, things that have numerous cords, place small colored stickers on the cord and the same color sticker where the cord goes. This will save you the hassle of trying to figure out what goes where when it comes time to reassemble your electronics. If possible, use the original boxes to store your electronics and other items.
Make sure that all appliances are clean and dry before storing them. Leave appliances slightly ajar to prevent mildew.
If it is possible store couches on end. Stack chairs seat to seat. Use the inside of appliances and drawers to store smaller items. When stacking furniture use paper pads in between the items to avoid scratching.
Store mattresses and box springs on long edges. Wrap for protection and elevate off the floor. Use two to three 2 x 4's cut to 1 foot long.
Store mirrors and paintings on end, not flat. Pack books flat to protect their spines.
To prevent rusting rub a small amount of machine oil on metal tools, bicycles, and equipment. Drain and clean all debris from all equipment before you store them.
When wrapping collectibles or anything breakable, tape it after you wrap it. This should avoid mistaking them for excess paper to fill the box. Use bubble wrap or unprinted paper to wrap breakables. Group similar items together and mark the boxes accordingly.
Clothing and draperies should be stored in wardrobe boxes, on hangers, to retain their original shapes.
Purchase the insurance. If your belongings are worth storing, they are worth insuring.
Rubbermaid containers are great to store your items. They have tight fitting lids and stack easily. Keep the more valuable items in the rear of the unit. This will prevent others from seeing them when you are in your unit.
Keep out of season clothes accessible, you may have your belongings in storage longer than anticipated.
Be aware of your surroundings when you are in your unit. If you see a potential problem or anything suspicious alert the manager.
Don't:
Do not use plastic to cover your belongings. It retains moisture.
Do not store any food items. This will prevent any unwanted guests.
Do not pack your boxes so that they are too heavy to carry them. Especially when you are packing books.
Do not assume that your homeowners or renters insurance will cover your belongings while in storage. Purchase the insurance.
Do not give out your password, gate code or any information to any one that is not listed as having access.
Do not use printed newspaper for wrapping. The ink may smudge and get on your items.
Do not forget to clean appliances before you store them.
Do not store any toxins or flammables such as paint, oil, or gasoline.
How Do I Choose a Storage Unit?
Finding a trustworthy storage unit is kind of like finding a trustworthy landlord, except you only really get to deal with the storage company once or twice when you sign up and move in. After that, you hopefully won't talk to them at all. You pay your rent, visit your storage unit when you need to get something or put something in, and that's all there is to it. However, there are some warning signs you should keep an eye out for to make sure your relationship with your storage company is a good one.
Decide on the Type of Storage Unit You Need
Take a look at the things you plan to put into storage. You may already have an idea of the size of storage unit you want to rent, but keep in mind that you don't want to just rent a storage unit that will fit all of your items, you want a unit where you can fit yourself inside with a little room to work. If you ever want to be able to get your items out, you don't want to pack your storage space wall to wall, floor to ceiling. Many people get the smallest possible unit they can get in order to save money, and then wind up having to empty half of it to get to a box that's in the back. Don't be that guy, unless you know you'll never need anything you're putting inside.
Do you have anything that's temperature sensitive? You may need a climate-controlled unit that's indoors, as opposed to a generic garage-style unit that's outdoors. Are your items valuable? You'll likely want a unit that has good security and monitoring, and you'll definitely want insurance on your storage unit. Check and see if your renter's insurance or homeowner's insurance policy covers items in a storage unit. If it doesn't, see how much it would cost to add it, or consider buying insurance from the storage facility. If you're going with a major national or regional storage facility, they likely offer it to their customers for a nominal fee.
Do Your Homework
Since you said you wanted a managed storage unit, we're going to focus on how you can find storage buildings as opposed to at-home storage boxes sealed boxes that you can't access when you want to go get your Christmas lights. First, don't get stuck on the storage facility closest to your home. Here are some things to do before you even pick up the phone.
Don't get stuck on location. There's no faster way to find yourself storing your precious memories in a facility that sucks than to get stuck working with the one that just happens to be closest to you or cheapest in your community. Cast your net wide enough so you have a good handful of options that you can investigate. After all, wouldn't you rather drive or walk an extra 10 minutes to store your belongings in a nicer location? Plus, if you live in an urban or heavily populated suburban area, you can store great deals by storing a little farther from town.
Check the reviews. Look up the storage facility on Google Places and Yelp. You obviously want to take reviews with a grain of salt, but if they're all bad or there's a recurring theme, you may want to steer clear. The reviews can also give you some insight into what you may want to keep an eye out for if you go visit the storage facility.
Compare the gate and office hours. A number of storage units only post their gate hours, to make the location sound like it's open later than it really is. Remember there's a difference. The gate hours are usually the hours in which you can access your storage unit, but the office hours are almost always shorter. If you have a problem or need to speak to someone, you'll only be able to address your issues during office hours. Similarly, make sure the gate and access hours are convenient for you. If your storage unit closes at 5pm on Saturdays and Sundays, it's probably not very convenient, and there may be a reason why.
Go Visit and Ask Questions
Now that you know what you're looking for and you have a few options, it's time to go take a look at the storage locations you're considering. Once you walk through the door, don't be pressured to sign on the dotted line right away, even if the property management tries to tell you that units are limited. Most companies will let you at least hold a unit overnight so you can think it over. Make the most of you visit by looking around and asking questions instead.
Ask the property management if you can see the unit you would actually get. This, or at least a unit on the same floor or in the same area. Some storage facilities will show you a clean, 3rd floor unit but actually rent you a dirty, bug-infested basement one, so be assertive if you have to so you can see a unit representative of the one you'll actually sign for.
Ask if there are any rental specials or discounts available. Most storage companies will offer you the first month free or for $1, which makes the transition from an old storage unit to a new one really easy (especially if you've already paid for the last month in the old unit) or if you want to make moving into the new unit a little less painful on the wallet. If they don't offer a special, don't worry, the next one you visit probably will.
Find out what happens if you miss or are late on a payment. In many places, storage units aren't treated like apartments. On the first day of the month, your rent is automatically late. Grace periods vary by the company or even by the state, and in some cases even being a few days late with your payment means your unit's contents can be auctioned off to the highest bidder at a wholesale auction. The last storage unit I rented gave me that scare tactic, and reminded me that I should always be timely or else the unit would be scheduled for auction and I would incur daily late fees. Make sure you know what your storage unit's policy is before you're stuck trying to do a wire transfer or pay online because you left town without dropping off a check.
Once you've seen the unit you would actually get and you have a good understanding of what you'd be getting into, ask the property manager if you can put the unit on hold if you like what you see. They may or may not be able to, but don't fall for high-pressure tactics. Even if you can't hold the unit, get a business card so you get back in touch with the person you met.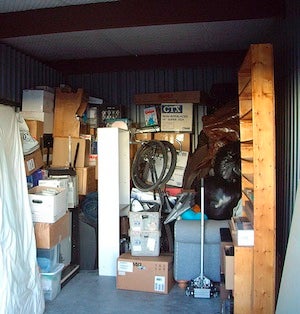 Visit Multiple Locations Before Signing
Repeat this process with several storage units in different locations before you call anyone back and sign up for a specific storage unit. See if you can take the contracts home with you to review so you don't have to try and make sense of a legal document while standing in front of the property manager. After visiting multiple places, reviewing all of the documents, and taking the time to consider which storage space is most convenient for you and best for your belongings, then you can sign a contract—or better yet, a month-to-month agreement that lets you out at any time.
Like we mentioned earlier, with luck you won't need the same type of relationship with a storage unit as you have with a landlord, but you do want to stash your belongings in a place you can trust with people you know will be watching your property carefully to make sure it's not stolen or damaged. With a little homework and and time to investigate multiple options, you'll find an affordable space that works for you. Good luck!